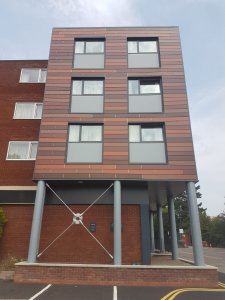 NIXON lead as principal designer, together with its teams of structural engineers and architects, on the transformation of voco™ St. John's, Solihull, in the West Midlands.
The multi-disciplinary practice was appointed to complete a 21-bedroom extension while the hotel continued to operate during the works.
The design team worked with our in-house architects and engineers to complete the extension which now has a capacity of more than 200 guest rooms.
Metal cladding was chosen to complement the existing exterior and in line with the new brand and the hotel's internal refurbishments.
Situated in the West Midlands town of Solihull, the hotel is centrally located as it is close to Birmingham Airport and the Midlands motorway network.
As designated Principal Designer, NIXON took care of CDM Regulations and Health and Safety during the construction and returned this week to complete its As Built survey.
Leading as Principal Designer was Tony Slevin, who commented on the significance of working with a world-renowned brand.
He said: "We were delighted to be appointed across our range of services from principal designer to our structural engineers and in-house architects.  voco™ St John's Solihull is a stylish new brand of hotel and to be appointed on projects such as this, is testimony to the breadth of services we offer at NIXON.
"The project was completed within 9 months and we wish the hotel all the very best in the coming months as the hospitality industry returns."