STV visited the site of Lancefield Quay a year on from the fire that damaged 24 out of the 94 apartments.
NIXON Director Dominic MacConnell spoke to Kirsti Clark about leading the project management of the reinstatement works and the recent appointment of Principal contractor Linear Design and Construct Limited.
Now a 48-week programme is undergoing and is estimated to be completed by Autumn 2021.
Our Glasgow-based multi-disciplinary team is providing architectural and civil &  structural engineering as well as quantity surveying and project management services.
Originally a quayside transit store built in 1947, Lancefield Quay was converted in the late eighties as part of an urban renewal plan for the city and is well-regarded as a significant landmark along the River Clyde.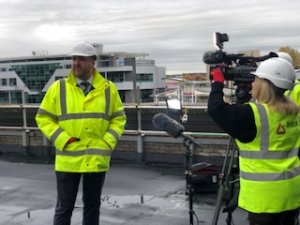 The full report is available on the STV Player